March 3, 2013 -- Updated 0614 GMT (1414 HKT)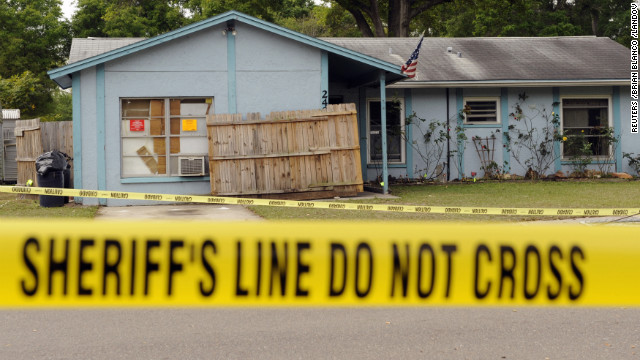 Police tape surrounds a home where a sinkhole opened beneath the bedroom of Jeff Bush in Seffner, Florida, on Friday, March 1. Sinkholes caused by acidic groundwater corroding the limestone or carbonate rock underground are common in Florida, according to the Florida Department of Environmental Protection. Take a look at sinkholes throughout the world.
When the ground gives way
STORY HIGHLIGHTS
Jeff Bush is presumed dead after a sinkhole opened under his bedroom
"It's really not possible to recover the body," a county official says
Demolition of the his family's house could take a few days
The sinkhole is about 20 feet wide and 50 to 60 feet deep
Seffner, Florida (CNN)
-- Unable to rescue a man devoured by a giant sinkhole, workers will start demolishing his Florida home Sunday -- three days after the ground under his bedroom opened up and swallowed him whole.
Authorities made the heartbreaking decision to stop the search for Jeff Bush after the odds of survival became abundantly clear.
"We just have not been able to locate Mr. Bush, and so for that reason the rescue effort is being discontinued," Hillsborough County administrator Mike Merrill told reporters Saturday evening. "At this point, it's really not possible to recover the body."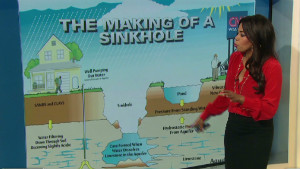 What causes sinkholes?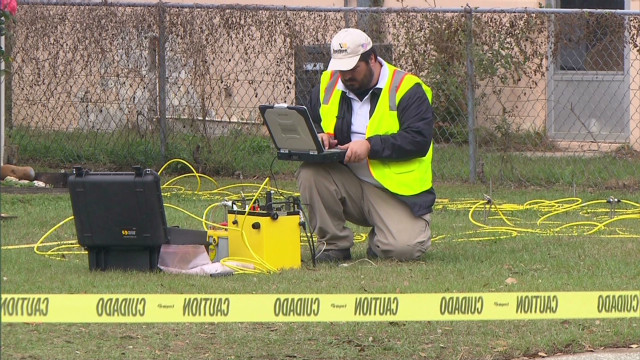 Sinkhole search suspended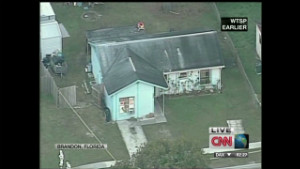 The science of sinkholes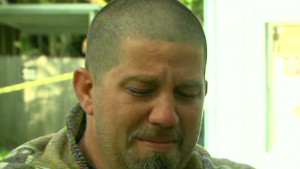 Family mourns man who fell in sinkhole
Earlier, authorities warned that the massive hole under Bush's bedroom -- about 20 feet wide and 50 to 60 feet deep -- was still expanding, and the suburban Tampa house could collapse at any time.
The Bush family's nightmare began Thursday night, just as everyone was about to go to sleep.
A deafening noise shattered the peace in the blue, one-story home in the suburb of Seffner.
"I ran toward my brother's bedroom because I heard my brother scream," Jeremy Bush, Jeff Bush's brother, told CNN's "AC360."
"Everything was gone. My brother's bed, my brother's dresser, my brother's TV. My brother was gone."
Jeremy Bush frantically tried to rescue his brother by standing in the hole and shoveling away rubble until police arrived and pulled him out, saying the floor was still collapsing.
"I couldn't get him out. I tried so hard. I tried everything I could," he said, weeping. "I could swear I heard him calling out."
The terror of those moments can be heard in a recording of the 911 cal in the moments after the sinkhole opened up.
"The house just fell through," a female voice says on the recording released by the Hillsborough County Sheriff's Office.
"The bedroom floor just collapsed, and my brother-in-law is in there. He's underneath the house," she said.
Jeremy Bush and four others, including a 2-year-old child, were uninjured.
After officials called off the search for his brother Saturday, Jeremy Bush spoke to
Bay News 9
.
"It's very hard. It's not just I lost my brother. They're so many memories in this house," he told the CNN affiliate. "I don't know what we're going to do."
Nearby homes were evacuated Friday as a precaution.
The sinkhole compromised a house next door to the Bush home, fire department spokesman Ronnie Rivera said. That home wasn't damaged as of Saturday morning, but the family that lives there was given about 30 minutes to grab belongings before abandoning the house, he said.
Sinkholes are common in the state, according to the Florida Department of Environmental Protection. The state lies on bedrock made of limestone or other carbonate rock that can be eaten away by acidic groundwater, forming voids that collapse when the rock can no longer support the weight of what's above it.
Hillsborough County, on Florida's west coast, is part of an area known as "sinkhole alley" that accounts for two-thirds of the sinkhole-related insurance claims in the state, according to a Florida state Senate Insurance and Banking Committee report.
Though the risky search for Jeff Bush has ended, the danger has not.
Merrill said the demolition of the Bush home could take a few days. He said workers were dealing with a "very unusual sinkhole" -- deep, wide and extremely unstable.