Color me a Doxa fan, but recently, much of the re-issue pieces are absolutely atrocious. However, this Shark Ceramica line is absolutely outstanding, and the XL limited edition model even more so. The watch is a limited edition of 1200 pieces, and features a Shark Motif on the dial. The style of the watch case more closely resembles an Omega Seamaster to me than a Doxa however. The ceramic bezel and gigantic 46.5mm case diameter really make a showstopper out of this watch!!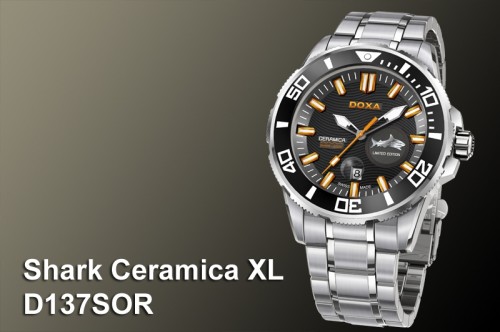 The watch was announced in March, and was only mentioned on the Asia site and appears to be an Asia model. I'm not familiar with how the Doxa brand is marketed in Asia, as it does seem to have significantly more models available there than they do in the USA.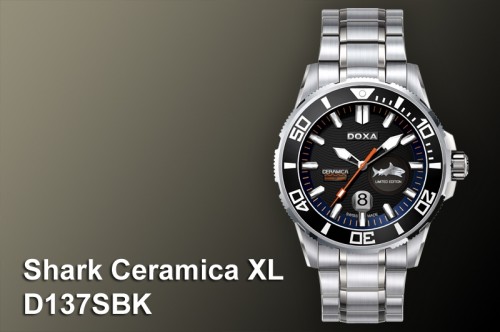 The watch comes in all black as well as an orange and black version as you can see. The basic specs are as follows:
Movement: ETA 2824
Outer Case Diameter: 46.50mm
Crystal Diameter: 35.00mm
Thickness: 14.27mm
Details: Black Ceramic Bezel Ring Insert, Worldwide Limited to 1200 pcs., with Certificate
Crystal: Scratch Resistant Sapphire
Case: Stainless Steel
Buckle: Stainless Steel Pushers folded buckle
Water Resistant: 300M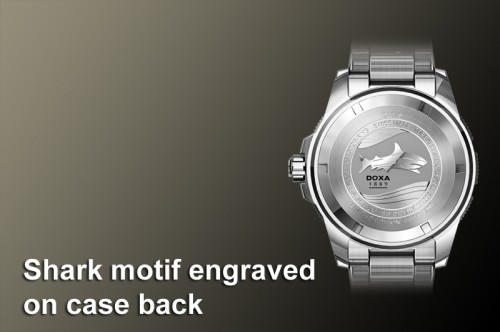 Overall an outstanding watch from Doxa that has some design cues taken from Omega's Seamaster and perhaps a little bit of Oris thrown in there as well. I would really like to own one of these!
Thu 13 Oct 2011
With just 12 pieces to go around, this is a timepiece for the truly entitled (that's not me). An absolutely stunning masterpiece, like all Urwerk timepieces. If only I had the money….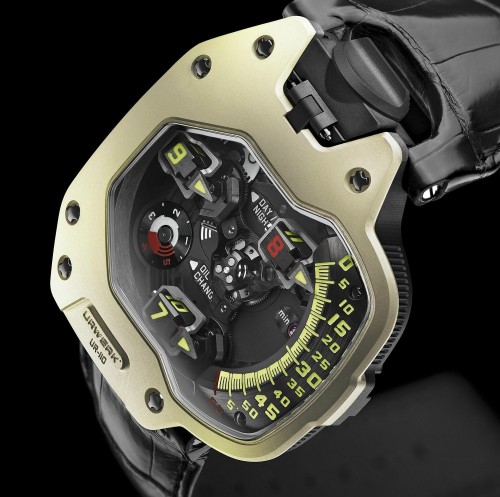 With its orbiting satellites and arrow-shaped time-indicating torpedoes, the UR-110 ZrN Torpedo is a truly stellar timepiece. Its radiance has been maximized thanks to a coating of Zirconium Nitride on the bezel, which provides the distinctive pale gold hue that gives rise to the "Champagne Supernova" nickname.
Zirconium Nitride is a high-performance ceramic machine tool coating, commonly used for industrial parts and aerospace components. While only a few microns thick, it is extremely hard (2,000 Vickers) and provides superb scratch, wear and corrosion resistance, while exhibiting excellent lubricity and ductility.
The UR-110 ZrN Torpedo is an Édition Spéciale of just 12 pieces, each distinguished by a red satellite hour numeral. Available exclusively from Chronopassion (Paris), Marcus (London), The Hour Glass (Singapore) and Westime (Los Angeles).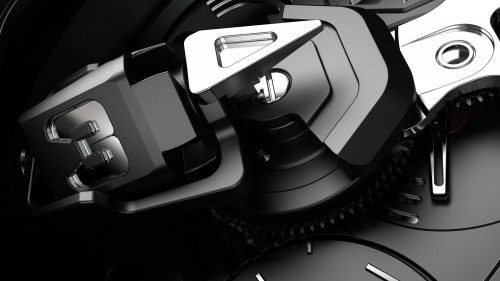 Model: UR-110 ZrN Torpedo
Case: Titanium with bezel in 316L sandblasted stainless steel treated with *Zirconium Nitride (ZrN); caseback in titanium; surface finishes micro-sandblasted
Movement: calibre UR 9.01 self-winding, unidirectional winding rotor coupled to twin turbines
Indications: Revolving satellite complication with rotating hour/minute modules mounted on planetary gears. Control board: day/night indicator, "oil change" indicator and running seconds
Dimensions: 47mm x 51mm x 16mm
*Please note that ZrN (Zirconium Nitride) is an industrial treatment that can result in variations in and the colour/hue on the bezel and between individual models.
Wed 5 Oct 2011
Undoubtedly a very cool shot and very talented individuals.
"A spectacular flight above the Lake Lucerne, at the heart of Switzerland, featured a gathering of the essential components of the Breitling "fleet", with the seven L-39C Albatros planes composing the fabulous Breitling Jet Team (the world's largest civilian aerobatics team flying on jets); the Breitling Super Constellation (one of the world's last three flightworthy "Super Connies"); the pair of orange Boeing Stearman biplanes carrying the Breitling Wingwalkers performing acrobatic figures in mid-air; and the four colourful Pitt Special S2As of the Breitling Angels flight headed by the MX2 flown by international aerobatics ace Nigel Lamb."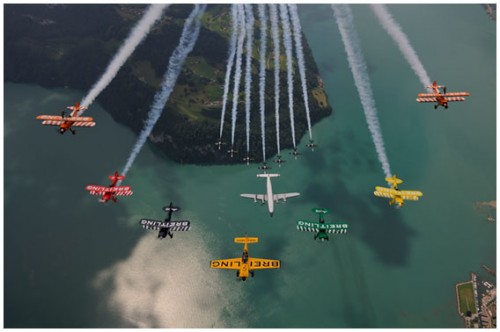 Mon 3 Oct 2011
I haven't been a Seiko guy in the past, but they have been growing on me over the past year. I decided that I would enter the world of Seiko by purchasing one of the SPB001J1 automatics from the Premier line. I actually ended up purchasing two of these watches and gave one to my father-in-law for Father's day.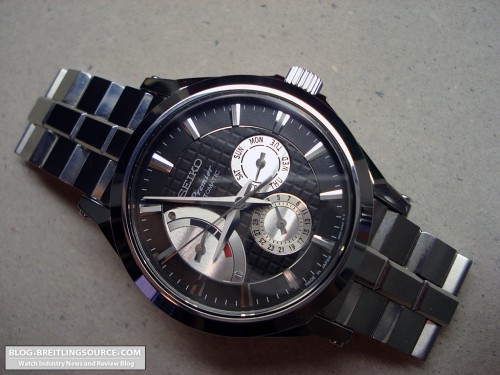 The watch features a very nicely crafted 42mm stainless steel case. The bracelet is also very nicely made and has faceted edges on it, creating a very unique look. Crown is push-down, dial has a nice pattern to it, but no lume at all. The lugs are also faceted on the case and have fake screws on the sides to simulate a slightly industrial look to it.
The side of the case has ribs on it, giving the watch an additional level of detail and sophistication. Given the modest cost of this Seiko Premier, it is a fantastic value.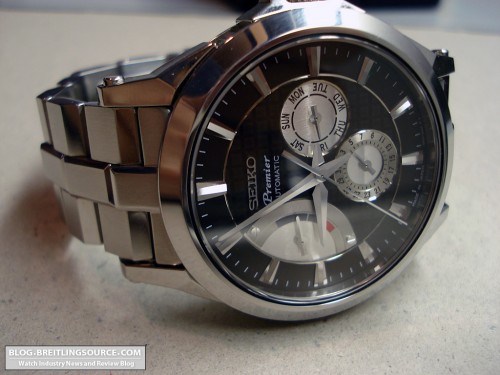 The watch features Seiko in-house 6R20 movement, which, were it any other brand with an in-house movement, would be substantially more expensive. Street price on these watches is around $650 which would be unheard of if it were a Swiss made watch with an in-house movement. These watches are made in Japan, and the complications on this movement are Power Reserve indicator, day, date and time. There is an exhibiition caseback showcasing the Seiko movement. While on the basic side in terms of movement finishing, it is still nice to see it.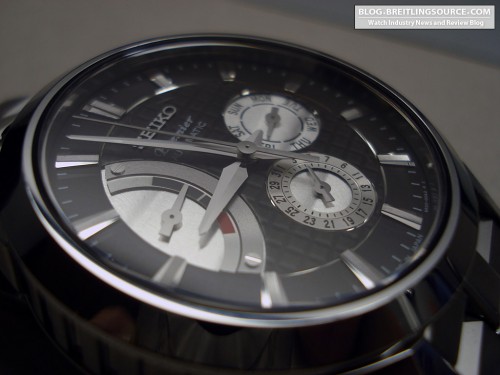 Unfortunately I did not take a photo of the back, but I did get a closer-up shot of the dial, showing the detail. The Seiko logo is applied, which is nice, and while the detail and finish are okay on the dial, they are not outstanding. The dial is very nice, but I feel like some of the Swiss watches of a similar pricepoint have a slightly better execution. The finish on the the surfaces of the dial is a machine finish, and somehow doesn't work for me 100%.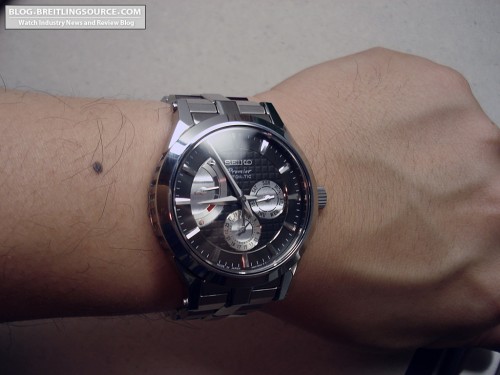 And finally the wrist shot. The 42mm dial suits my wrists very well I think, and also looks very good on on my 6.75″ wrists and also looks great on my father-in-law's 8″ wrists as well. Overall, a great alternative for someone looking for a $1000 MRSP watch, who is tired of the usual Swiss fare. Pros include an in-house movement with proven Seiko reliability and great size and casework. I would recommend this watch and continue to be happy with my own purchase.
Sun 25 Sep 2011
I realized after searching through my posts that I had never gotten around to posting my impressions of the Rolex GMT-IIc diver! I have had this diver for a year or two now and I really like it. Rolex has grown on me as a brand, especially with their releases in the last couple of years. I'm not going to go into a full review of the watch, since there are so many competent reviews out there already, but I will post about my impressions. Unfortunately I only took three photos of the watch before I put it into safety deposit so I can't take any more until I grab it out again!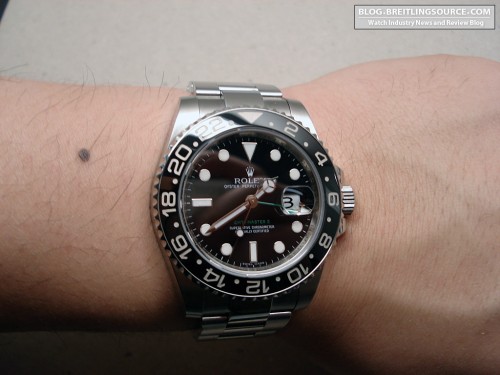 We'll start with the wrist shot. The watch is perfect sized for my 6 3/4″ wrist, and still manages to look bigger than previous versions while maintaining its 40mm diameter. Rolex accomplishes this by widening the lugs to give the watch a chunkier appearance. I really like what Rolex did when they redesigned these diver cases – to me the previous ones were just a touch too small. Now they are perfect. The new green GMT also sets off the dial perfectly.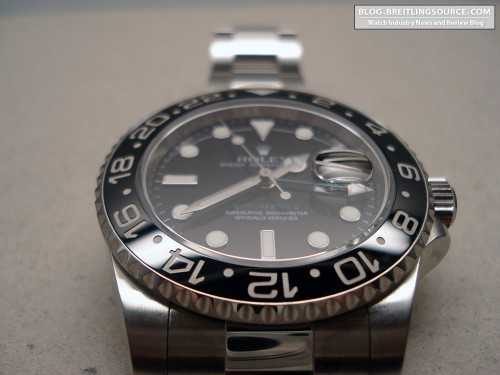 You can see the new Ceramic bezel in the close up above quite well. The GMT numbers are cut out of the polished surface of the ceramic and have a sort of blasted rough finish on the inside, which is a very nice contrast. Props to Rolex for making such a beautiful ceramic bezel. Of course the typical authenticity security features such as the etched crown in the sapphire crystal, rolexrolexrolex wording around the chapter ring and serial located in the chapter ring all exist on this model.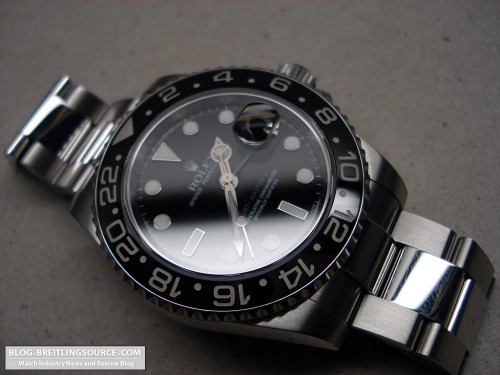 The GMT Bezel is a bidirectional bezel, like most GMT bezels out there. The movement in the GMT Master IIc is the
Rolex Caliber 3186
, which has been upgraded from the previous
Caliber 3185
by adding a Parachrom-Blu Hairspring.
Some other improvements int he GMT II Ceramic are the new machined clasp and solid oyster bracelet as well as the maxi-dial. I'm glad they finally included all of these features on one watch, which is why I bought the GMTIIc. One of my criticisms of Rolex has always been their differences from high end to lower end models like the Maxi Dial and Date "complication". Addition of a date wheel for a thousand dollars seems quite excessive. But whatever they are doing it is working, because they are still THE brand, when one talks about luxury wristwatches.