Watch New Trailer of Ra One
Director: Anubhav Sinha
Producer: Gauri Khan, Shahrukh Khan
Starring : Shahrukh Khan, Arjun Rampal, Shahana Goswami, Kareena Kapoor, Satish Shah, Dalip Tahil
Release Date: 26 October 2011
Genre: Sci-Fi,Action
Language: HIndi
Country: India
Synopsis:
Ra One
is a sci-fi movie based on Gaming,Bad Guys and Super Heroes. In the movie Shahrukh Khan plays the role of a Gaming Freak who falls in Love With Kareena Kapoor.
The film is about Jeevan (Shahrukh Khan), a Software engineer in Miami, who has a video game and always tries to beat his villain RA.ONE.
Attempting to connect with his teenage son, a Game Designer creates the ultimate video gamevillian. When the villainous program becomes self-aware, itescapes from the game and kills the father. Now hunted by the digital demon because he's the only player to ever defeat him, the Boy must extract the game'shero – designed in his father's imagection. Together, the unlikely duo bond form a relationship they never shared as father and son while stopping thevillian's plan to enslave the world.
Official Website :raonemovie.com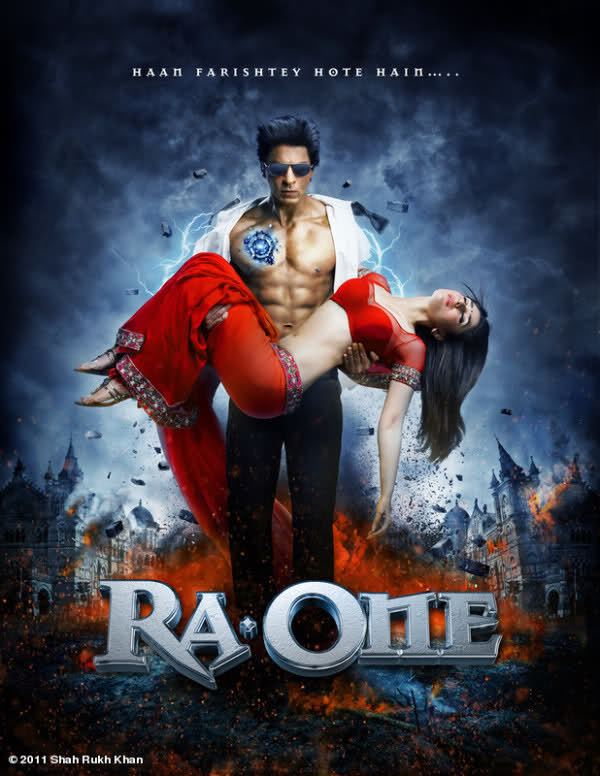 thanks to Akmed & theGraduate..
thanks to Kallis..
Mumbai, Sep 13 (IANS) To woo the Southern audience, Bollywood star Shah Rukh Khan will release his much awaited sci fi film 'Ra.One' in Tamil and Telugu as well.
'The film will be released in Tamil and Telugu as well. It will release simultaneously when the Hindi version of the film will release. The Tamil and Telugu versions are already ready. The dubbing is done,' Shah Rukh told reporters here on the sidelines of the music launch of the film.
'We might release it in German and few other languages as well. I'm in talks with Eros for this,' he added.
'Ra. One' that is slated for a Diwali release and will be available for viewing in both 3D and 2D formats, will present Shah Rukh as a super hero for the first time. Directedby Anubhav Sinha, the film also stars Kareena Kapoor and Arjun Rampal in pivotal characters.